"We are happy to announce new tour for September - October 2018. Its "All Against All" tour with Mister X BY Streetpunk and new members of our booking family - hardcore-punk machines Antreib from Moscow."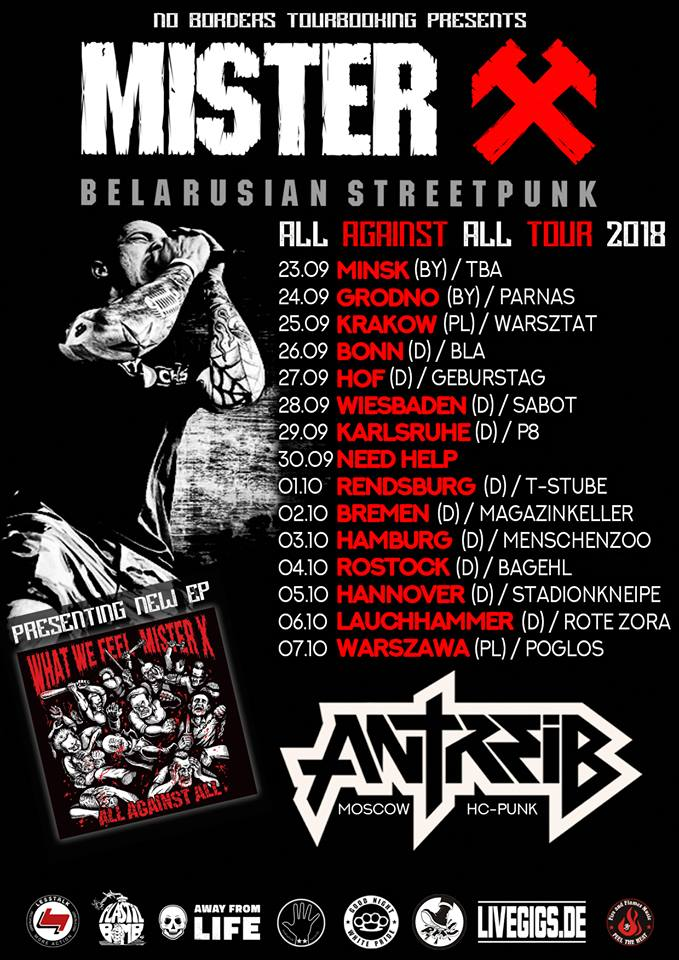 Mister X are a Belorussian street punk band formed in Grodno, West Belarus, in 2003. The band openly identify as S.H.A.R.P. and belong to the small, but healthy anti-racist skinhead scene in Belarus/ ex-USSR. Since band were born Mister X carrying' no banners, but it's a openly Antifascist and Anti-racist band. Mister X consider that all prejudices are bullshit and fight against all intolerance and injustice in modern world. For sure at Mister X gigs there is absolutely NO PLACE for any kind of stupid behavior such as racism, fascism, nationalism, sexism, homophobia etc. Fresh LP (split with What We Feel) was released by Audiolith Records andFire and Flames Music.
The band "Antreib" was born in 2009. It is four guys playing hardcore punk and crossover thrash. During its life the band has released 4 albums. Now after a big Russian tour the working on a new record has begun. The band has shared the stage with "The Exploited", "Total Chaos", "Overkill", "Siberian Meat Grinder", "Acidez", "The Vibrators", "Walls of Jericho" and many others. Now the band is going to play its first gigs in Europe and meet European audience. To be heard and understood outside of Russia "Antreib" made an English version of their album "Cut the heads off!".
Check out band's videos:
Mister X
Antreib
TOURDATES Mister X (Streetpunk, BY) / Antreib (Hardcore, RU):
23.09 Minsk (BY) / TBA
24.09 Grodno (BY) / Parnas
25.09 Krakow (PL) / Warsztat
26.09 Bonn (D) / BLA
27.09 Hof (D) / Geburstag
28.09 Wiesbaden (D) / Sabot
29.09 Karlsruhe (D) / Р8
30.09 Koln (D) / TBA
01.10 Rendsburg (D) / T-Stube
02.10 Bremen (D) / Magazinkeller
03.10 Hamburg (D) / Menschenzoo
04.10 Rostock (D) / Bagehl
05.10 Hannover (D) / Stadionkneipe
06.10 Lauchhammer (D) / Rote Zora
07.10 Warszawa (PL) / Poglos
What We Feel/Mister X - All against all (Split-Album, 16.02.18)
Audiolith Shop: https://shop.audiolith.net/What-We-Feel-Mister-X
Andere Shops: http://audiolith.net/al275
Fire & Flames LP: https://goo.gl/diXFWN
Fire & Flames CD: https://goo.gl/e7RSkj
Live:
22.02.18 Osnabück - Hydepark
23.02.18 Berlin - SO36
24.02.18 Kiel - Alte Meierei
Mister X Homepage https://www.facebook.com/mx.band.69